NSW Multimin Performance Ready Challenger Alex Willson, has recently implemented a new animal health program to boost livestock performance in the face of the state's widespread drought.
Alex breeds fine/medium Poll Merinos on his stud in the Southern Tablelands region of NSW – yet challenging weather conditions have forced the drought-affected farmer to take new steps to ensure the survival, welfare and profitability of his stock.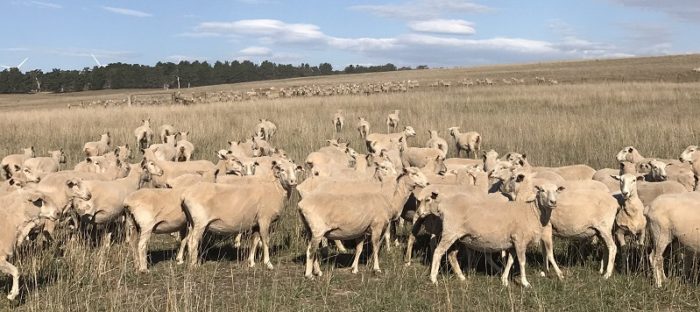 Alex has implemented a range of measures to combat the difficult conditions and keep his sheep alive. Some of these include:
Lick feeders
Alex has introduced lick feeders instead of trail feeding to give his ewes and growing lambs consistent access to grain, which is a ration of wheat and buffer pellets. Since doing that, he's seen a decrease in mis-mothering, a consistent condition score in his ewes, an improvement in milking, and generally better health in both lambs and ewes.
Highly productive grazing crops
Alex planted highly productive grazing crops including Ascend Ryegrass, grazing wheat and Hyola 970 Canola. These varieties have been better able to make use of what little rain he's had, providing targeted grazing to carry him through the worst parts of the drought.
Merino ewe base
Alex also made the decision to move away from cross-breeds and focus primarily on merinos which has enabled him to take advantage of wool and meat production – and avoid seasonal vulnerabilities and getting caught having to carry ewes and lambs through winter.
Nutritional supplementation program
The introduction of a nutritional supplementation program has played an important role in maintaining animal health for Alex. He added AD&E pre -lambing, a starch based loose lick high in calcium and magnesium, and a starch based lick for lambs on grazing crops to improve rumen function.
Multimin Performance Ready Challenge
Alex has been working with Virbac Australia and Cooinda Vet Hospital vet Dr Elizabeth Bramley as part of the Multimin Performance Ready Challenge. Due to the seasonal conditions, accurately performing a well designed trial was not possible and therefore Alex treated his lambs with Multimin 3 in 1 trace mineral injection for sheep as part of his overall animal health program.
When used strategically during periods of high demand such as joining, lambing, weaning and for young growing stock, Multimin has been shown to optimise fertility and immunity.